AMS' Q60 and Q50 Red Alpha VR30 Auxiliary Intercooler Pump Kit is a must do modification for all non-Red Sport vehicles. Your VR30 twin turbos generate a lot of power robbing heat. INFINITI understood this and included a second intercooler pump on the Red Sport trimmed vehicles. This is where AMS has stepped in. The Red Alpha VR30 Auxiliary Intercooler Pump Kit raises your non-Red Sport's cooling system performance up to Red Sport levels for a fraction of the cost. Add this to your Q50/Q60 Red Alpha Heat Exchanger, Red Alpha Auxiliary Coolant tank, and the Red Alpha Expansion Tank for the ultimate VR30 cooling system. The easy step by step install instructions can be downloaded here.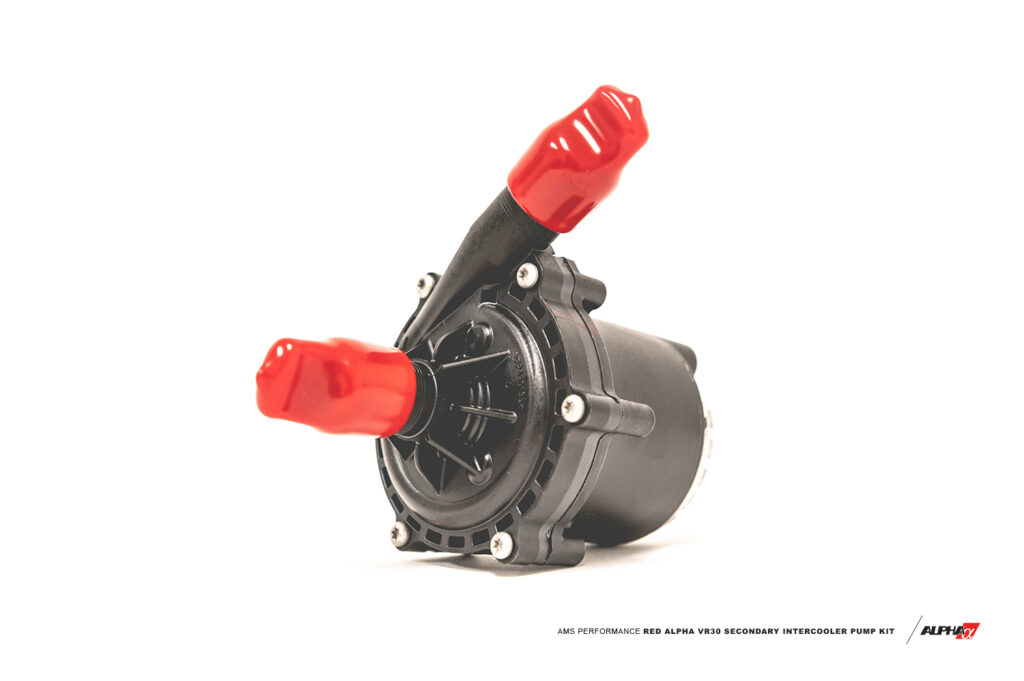 Engineered to be the Best
---
The Red Alpha VR30 Auxiliary Intercooler Pump Kit comes complete with everything you need for a direct bolt-in upgrade. Each individual pump is flow tested to insure the ultimate in performance and comes with comprehensive online installation instructions. Our pump is controlled by the OEM ECU and will operate just like the OEM Red Sport Pump. It is also wired with its own power supply directly from the battery ensuring that there is no voltage loss when the pump goes to full speed.
Kit Includes
---
Brushless Water Pump
Pre-formed Hoses
Mounting Bracket
Wiring Harness
Includes necessary hardware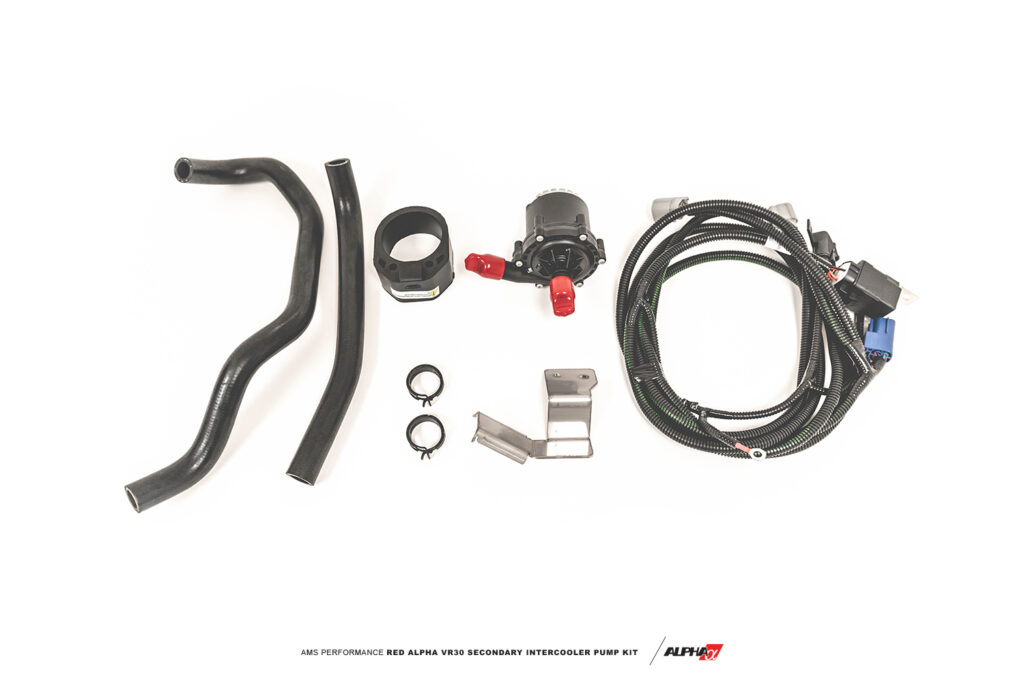 Benefits
---
The ability to flow more coolant means cooler temps and more sustained power
Raises the efficiency of the other cooling components
Red Sport level cooling for a fraction of the cost
Complete bolt on kit means no cutting or modifying necessary
Plug and play OEM fitment
Includes wiring harness
Includes installation hardware
Easy installation
Comprehensive installation instructions

 

here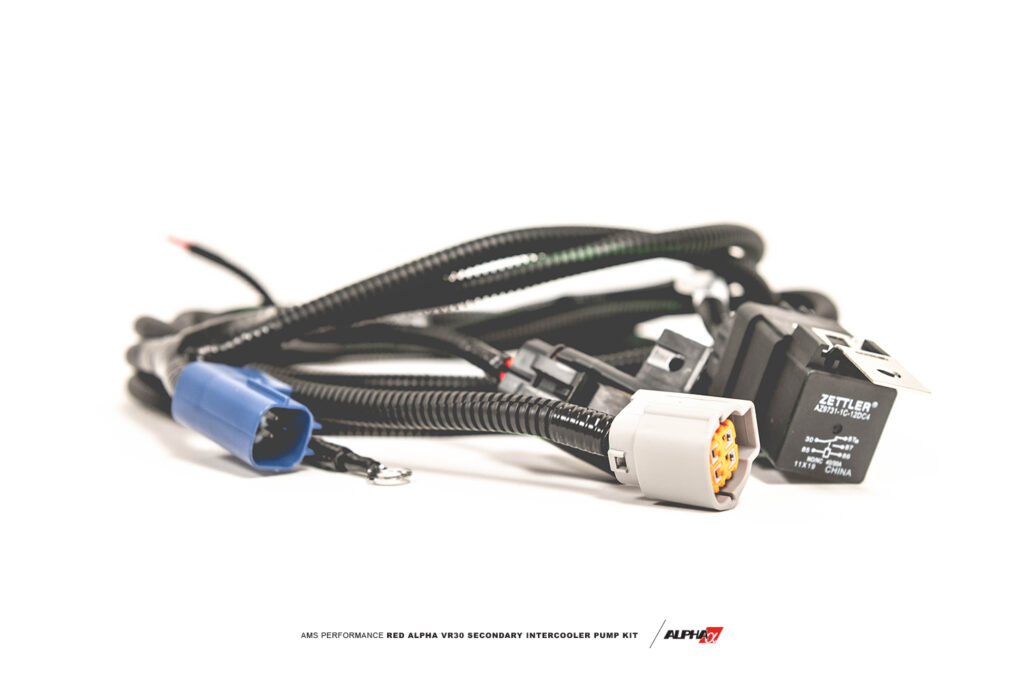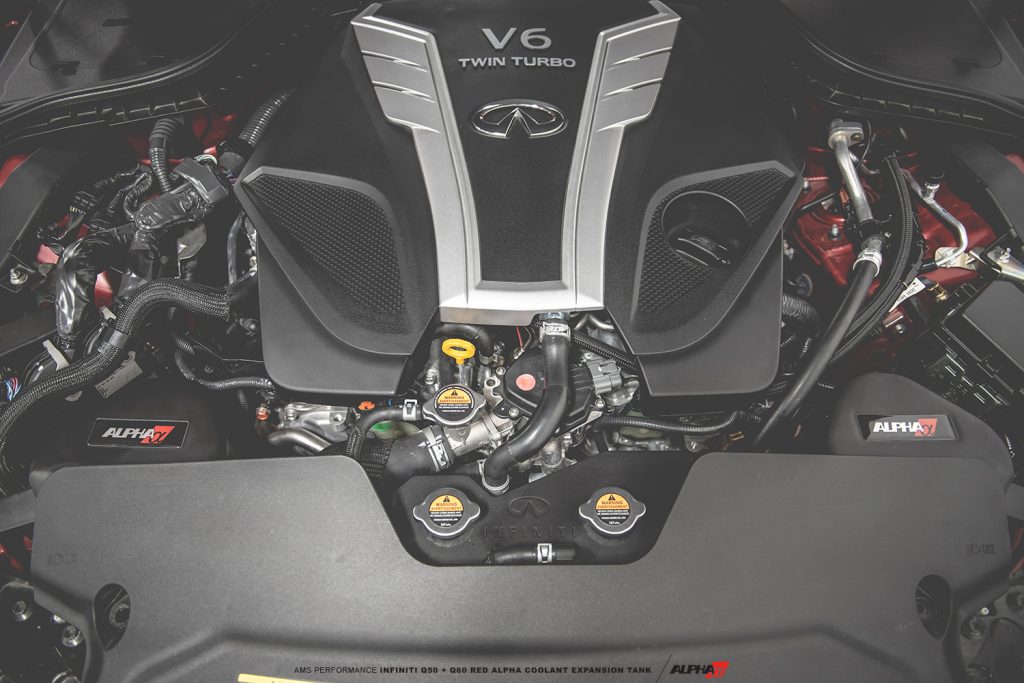 Applications
---
2017+ INFINITI Q60 with 3.0L Twin Turbo VR30 (Non-Red Sport)
2016+ INFINITI Q50 with 3.0L Twin Turbo VR30 (Non-Red Sport)
Notes
---
Download the INFINITI Q50/Q60 Red Alpha VR30 Auxiliary Intercooler Pump Installation Instructions

 

here.
The installation instructions performed here were done using a Q50 Silver Sport. Depending on your model and trim level, some steps will vary. There will be component differences between the model and trim levels but the same basic installation procedure still applies.
Bleeding the intercooler system requires the use of the OEM CONSULT tool or bleeding system called an Air Lift or Vacuum Venturi Cooling System Refilling System that is available at any major automotive tool retailer. See the Bleeding Section at the end of the instructions before continuing.