Here it is! Introducing the AMS Performance Subaru EJ WRX/STI Intake Manifold. The manifold was designed with performance and big HP custom setups in mind. With the level of builds this manifold will be used in, there will be some customizing required. Get yours today!
Stay Ahead Of Your Competition With The AMS Subaru WRX STI Intake Manifold!
---
The AMS 
Subaru
Intake
Manifold
 was designed to outperform the competition. We referenced many modern design examples and engineering studies to bring you the best 
intake
manifold
 available for the 
Subaru
 EJ20 and EJ25 WRX & STI. After extensive testing we ended up with a 
manifold
 that makes more power than anything else currently available on the market! 
Benefits
---
4.5 Liter Plenum Volume

13" Equal Length Intake Runners (Measured from Face of Bellhorn to End of Runner)

2.5" (63.5mm) Intake Runner Diameter (ID of Bellhorn)

Bellhorn OD 3.8" (96.7mm)

TGV Housing Replaced with Long Runner Design

Increased Port Size at Cylinder Heads Allow Matching to Larger Hand Ported or CNC Ported Cylinder Heads

Available in Standard or Reversed Configuration

Throttle Body Opening Accepts Larger Throttle Bodies up to 2.625" (66.675mm) or 70mm with mild porting

Available in 4 Configurations (Standard, Standard Coated, Reversed, and Reversed Coated
Product Notes
---
Due to the large variety of rotated turbo kits on the market, we cannot guarantee fitment with every brand. Depending on the turbo location and sizing, interference with the cylinder 3 intake runner is possible.

Some port matching may be required when used in conjunction with CNC or hand ported cylinder heads.

The intake manifold is available with a standard or optional reverse throttle body orientation, allowing for more direct intercooler pipe routing.

Larger throttle bodies can be used with proper modifications (Up to 70mm with minor porting) (Larger throttle bodies may also require adapter flanges)

The intake manifold is flanged for 04+ STI drive by wire throttle bodies, but cable throttle bodies can be used with custom fitting and flange adapter.

Standard configuration intercooler piping will need mild custom fabrication due to placement of throttle body.

Reversed configuration requires the relocation of the alternator and removal of the A/C compressor.

 

Installation is not a direct bolt on and will require custom intercooler piping.

 

The intake manifold is designed to use a common Subaru aftermarket top feed injector size. (48mm overall length / 11mm inlet – standard Subaru rail size / 14mm outlet) We recommend the use of Injector Dynamics brand injectors.

Standard Subaru style injectors cannot be used. (Side Feeds, Stock STI Style Injectors)

Not compatible with stock fuel rails or lines.

Not compatible with top mount intercoolers.

Not directly compatible with mounting the factory upper coolant reservoir.

 Custom bracketry will need to be fabricated to mount.

The bottom of the center plenum features four 1/8″ and one 1/4″ NPT ports for vacuum accessories.
2008+ STI may require mild clearancing of A/C compressor line
Engineered To Be The Best
---
For the Subaru EJ Intake Manifold the plan was simple, take our years of engineering experience and design the best intake manifold available. Designed, prototyped, and tested in house by our team of Engineers, the AMS Subaru EJ Intake Manifold was created to be the best unit available on the market. By casting this manifold it is not only stronger, but it allowed us to optimize the power output by giving us the freedom to sculpt the interior geometry for maximum efficiency and airflow.
By utilizing Solidworks© & CFD (computational fluid dynamics) software we started with an extremely large plenum size of 4.5L for the ultimate top-end power. We also designed CNC machined bellhorns which act as internal velocity stacks and allow for a broad power curve and high RPM horsepower capabilities. This allowed us to optimize massive 2.5″ tapered runners and matched cylinder port angles to minimize turbulence and maximize power output. This was only achievable with the incorporation of the TGV section of the manifold. This allowed the taper to happen over the entire 13" length of the runners instead of it happening in only a few inches through the factory style TGV housing. With the incorporation of the TGV housings into our manifold, we have made the AMS Subaru EJ Intake Manifold a cost-effective one piece solution. Gone are the days of having to purchase both an intake manifold, and separate TGV delete housings.
Unmatched power gains and excellent response
---
This AMS Subaru EJ Intake Manifold offers more than just top end power. This manifold gives you an amazingly wide power-band with a huge jump in power whenever you are in boost. This equates to greatly improved lap times on the road course and the confidence to leave any opponent in your dust when on the street or drag strip!
Be the guy to beat, order your AMS Subaru EJ WRX / STI Intake Manifold now!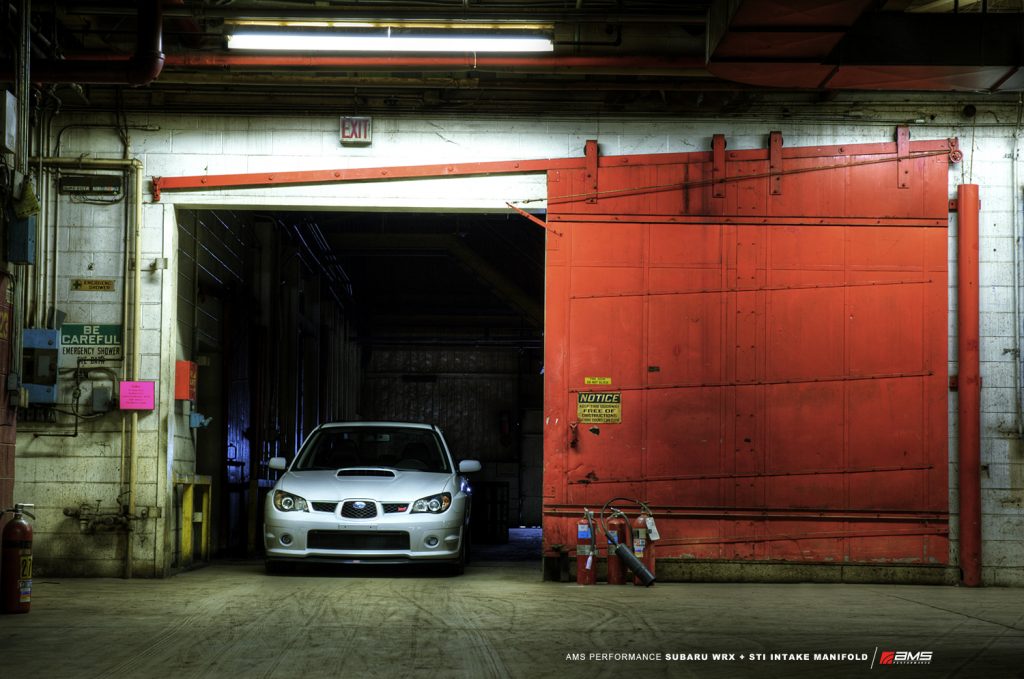 Applications
---
02-05 Subaru WRX w/ EJ20 (Requires adapter to use WRX style drive by cable throttle body)

06-07 Subaru WRX w/ EJ25

08-14 Subaru WRX w/ EJ25 (Requires using STI style drive by wire throttle body)

04-Current Subaru STI w/ EJ25 (2008+ STI may require mild clearancing of A/C compressor line)

Will fit various Legacy and Forester EJ25 applications with proper throttle body usage and custom fitting