Alpha R35 GT-R Race Front Mount Intercooler

Race-Proven results for your GT-R
We designed the Alpha GT-R Race Intercooler to be the best-performing, most efficient GT-R intercooler on the market. It certainly had to be in order to meet the requirements of our stable of World Record setting, 8 second Alpha GT-R's!  If your GT-R produces in excess of 900 horsepower or if you drive in a hot weather climate, the Alpha GT-R Race Intercooler is your best option for producing power safely and efficiently.  After testing, re-testing and a host of refinements, this race-proven design is perfected and now available for your Nissan GT-R.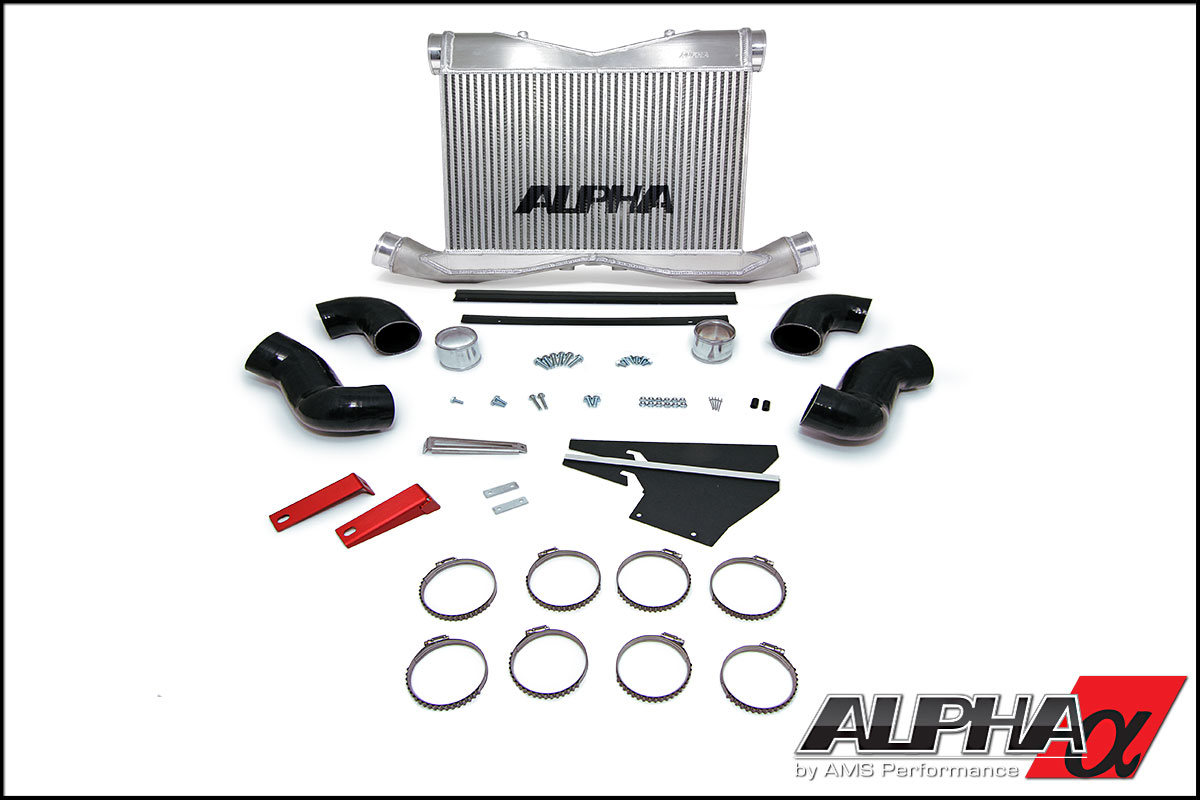 Complete Intercooler Kit Shown
Engineered to be the best
At AMS we employ a team of mechanical engineers who have a passion for perfection in form and function. They set out to design an entire package with two goals in mind; maximum power delivery and response with perfect fitment.  Every aspect of the project was scrutinized and then optimized to yield the best results.

All intercooler cores are not created equal
To effectively reduce charged air temperatures, we employed a vertical airflow design for maximum cooling effect with a massive 22"x14"x4.5″ bar-and-plate core offering 92.5% more air volume than a stock pair of GT-R intercoolers!  The core offers up to twice the fin density of most intercoolers currently on the market.  This allows for more contact with cool, dense air and it does so with virtually no boost pressure drop (less than 1 psi) proliferating the most ground pounding power output you can get for your GT-R!

Computer aided design yields maximum results
Our engineering team designed the Alpha GT-R Intercooler end tanks with extremely smooth features and geometry for the best flow resulting in maximum horsepower.  Designed using Solidworks 3D CAD software, these end tanks have improved flow over boxy sheet metal end tanks found on other intercoolers.  These large end tanks feature 3-inch CNC billet inlet and outlet ports to provide a smooth, tapered transition from intake to intercooler.  Our team went even further by computer designing precisely molded, custom silicone couplers to provide perfect fitment and optimized geometry for improved airflow volume and velocity – providing unmatched power and response.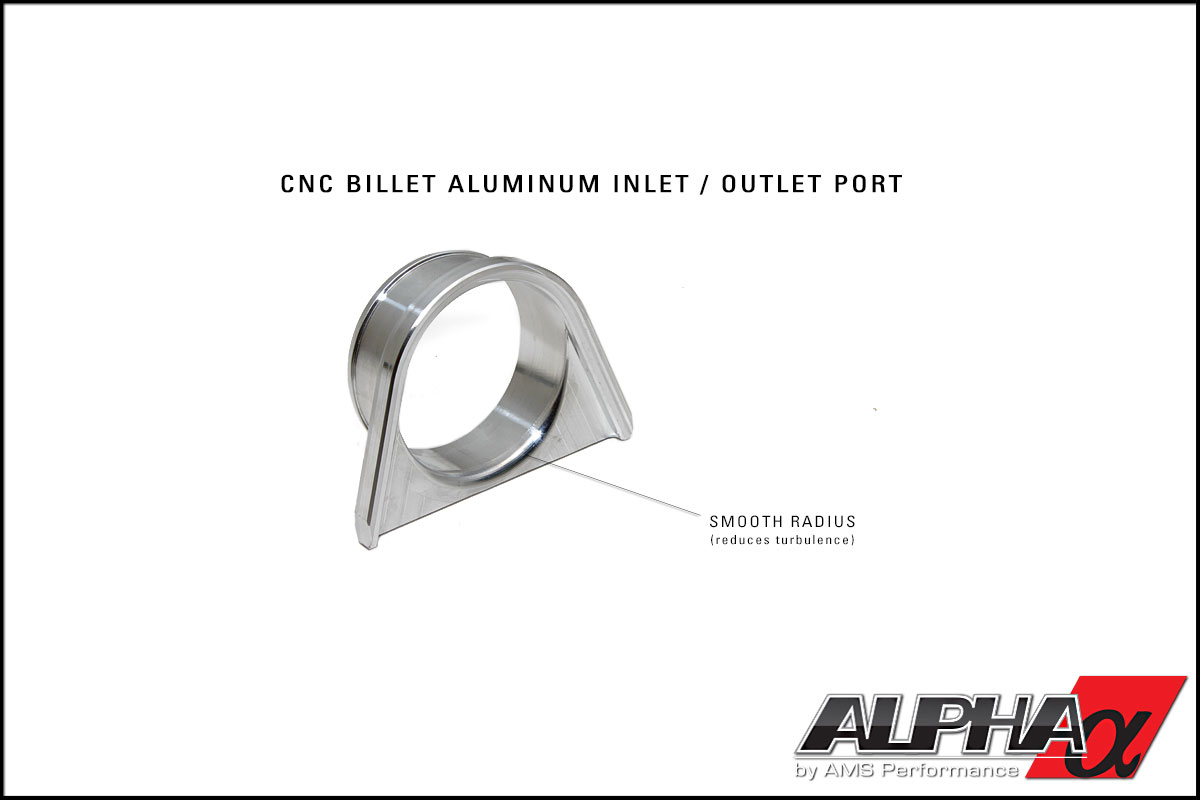 The difference is in the details
This intercooler kit takes full advantage of the GT-R's available frontal area while improving functionality of the stock intercooler shroud.  For even better channeling of air, a supplied bridge plate and shroud plates create a tight seal surrounding the core. This seal ensures that cool air entering the shroud is funneled through the core. The plates stop air from escaping through the sides, above and below the intercooler maximizing the efficiency and effectiveness of the intercooler core.  These are features often overlooked by the competition.  All of this in a package that does NOT require cutting of the factory crash beam or bumper cover.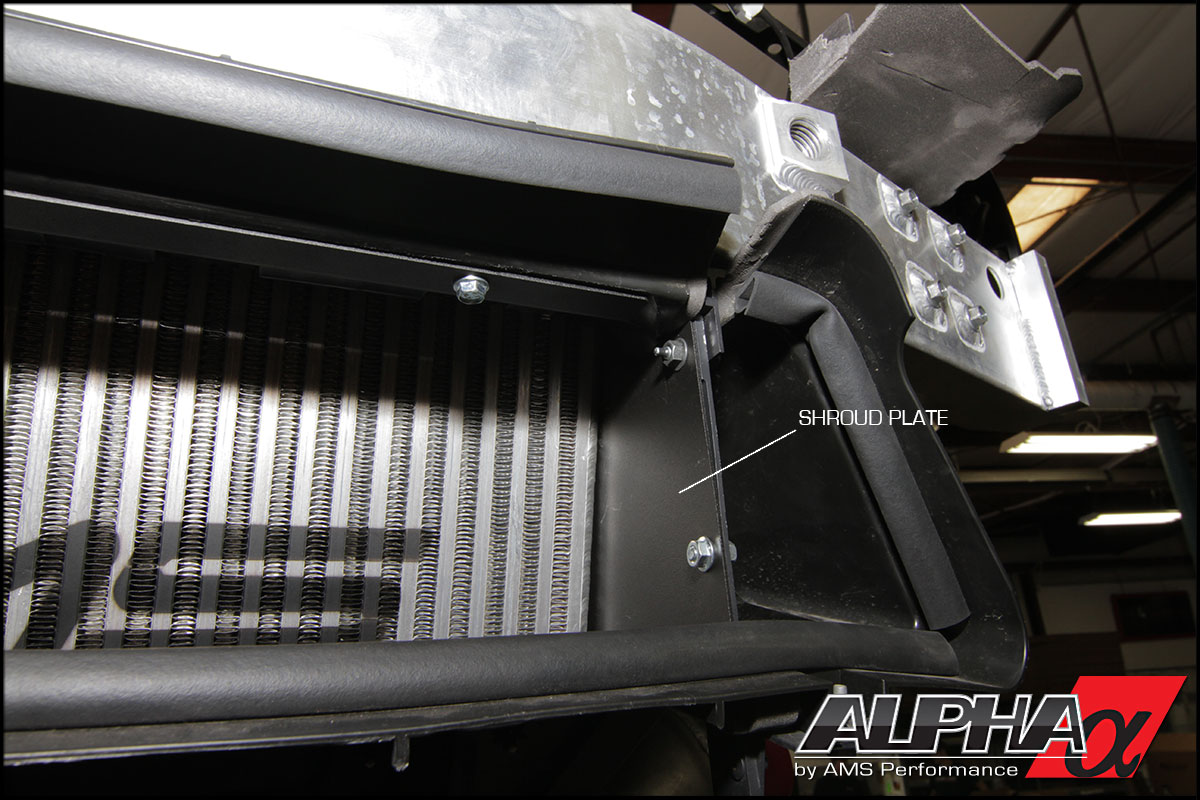 Closeup of Actual Shroud Plate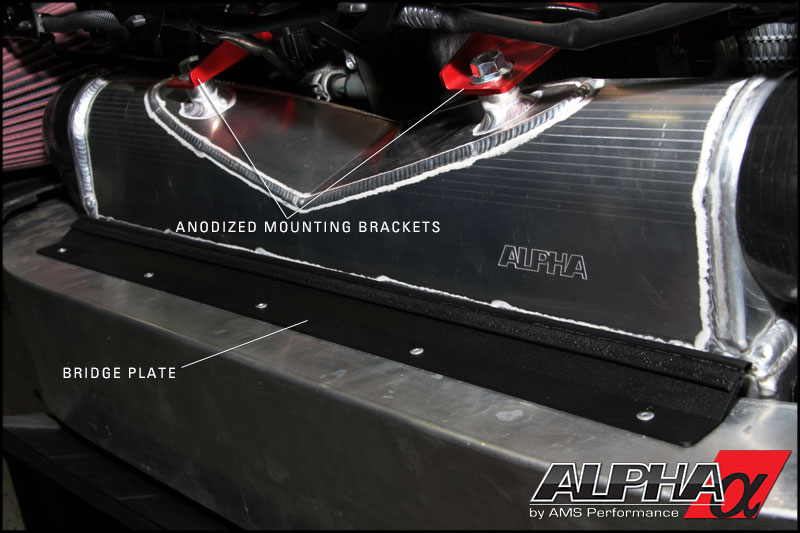 Closeup of the bridge plate and anodized mounting brackets.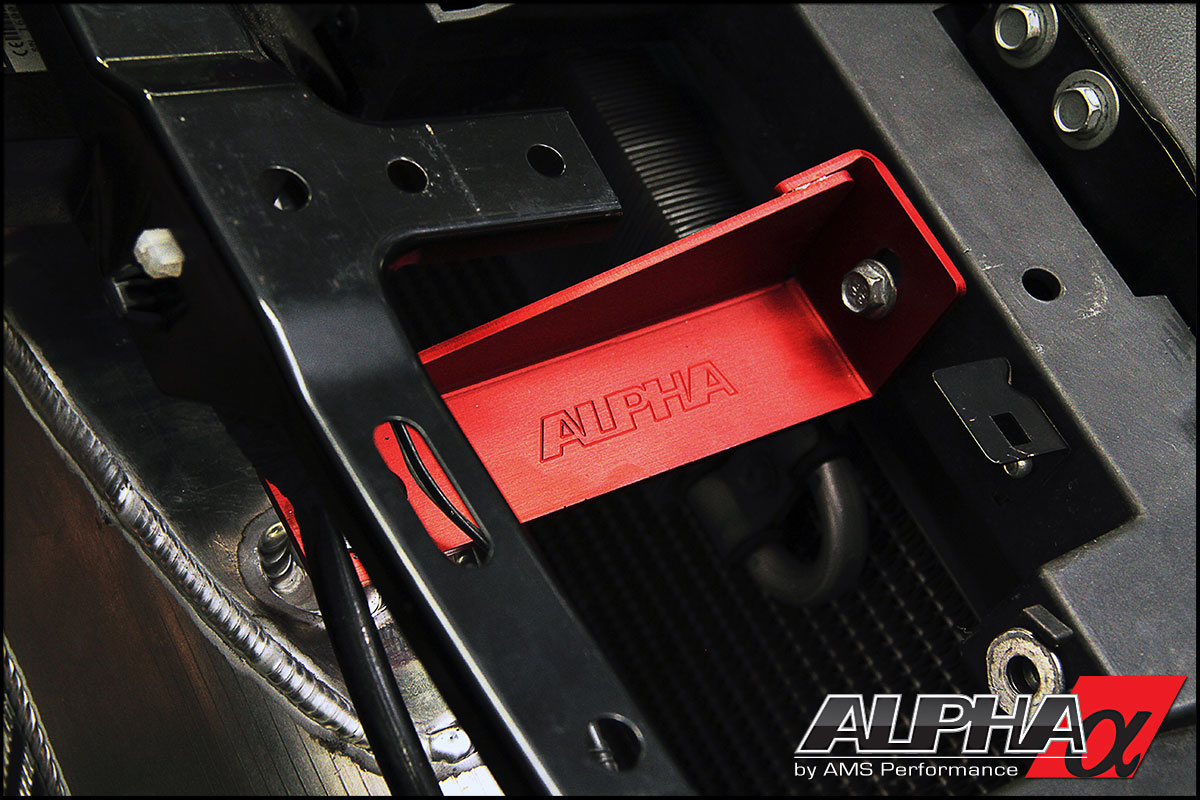 Let the competition know you mean business!
When you buy an Alpha Race Intercooler not only will you get the benefits of unmatched performance and the most well engineered product in its class, we also incorporate the prestigious Alpha logo that peeks out from the front of your supercar.  Be warned though, it might scare your competition away!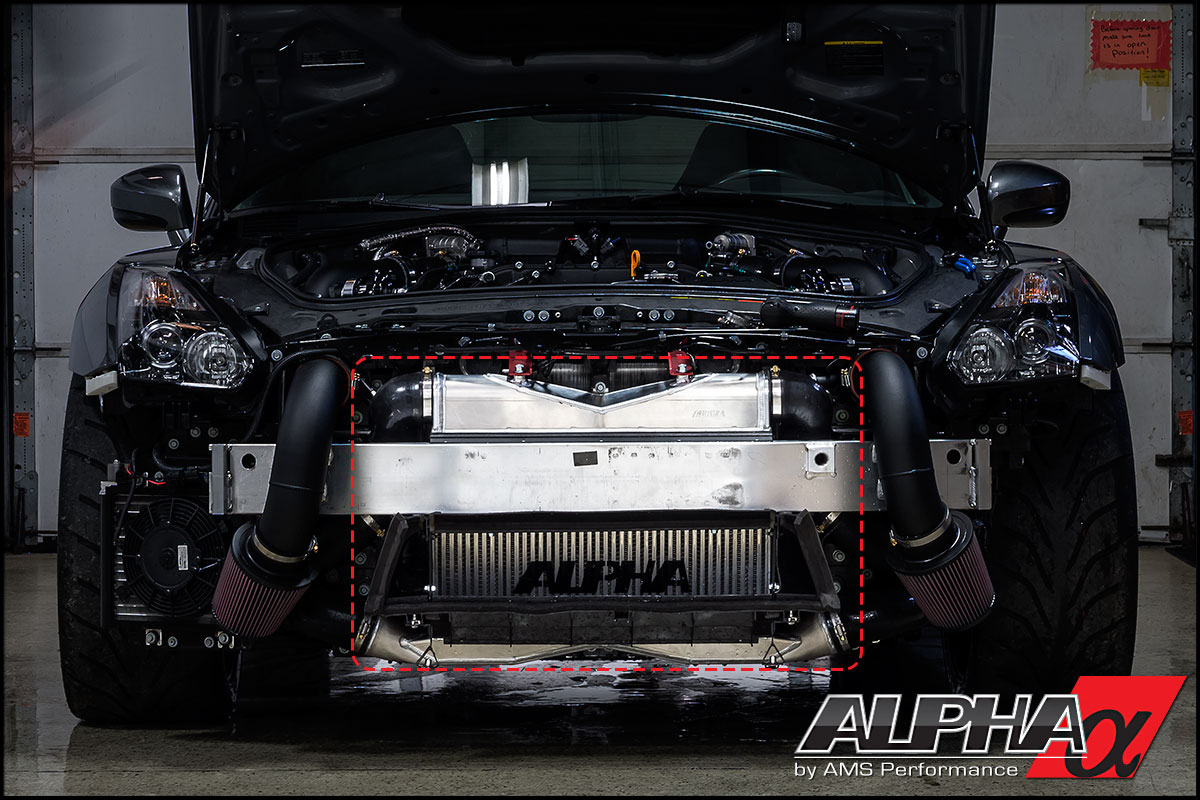 Single piece fits neatly in front of the core support
"Alpha 16 Turbo Kit Air Intakes Shown are Not Included"


Our motto says it all; Quality, Integrity, Results.
Just like all Alpha GT-R components, there is absolutely no doubt about durability, reliability and fitment of this package! Our Alpha GT-R Race Intercooler mounts firmly to the core support with gusseted aluminum brackets. All 4-ply silicone couplers provide superior strength and fasten securely using Murray Turbo Seal clamps. The intercooler itself is pressure tested to 50psi and checked for leaks in order to pass inspection. All of this is done to ensure your Alpha GT-R Race Intercooler lasts the lifetime of your GT-R!
Do it right the first time, order your Alpha GT-R Race Intercooler today!
Exclusive Benefits

---
Provides 92.5% more air volume than stock

Thick 4.5" deep core

Vertical flow and twice the fin density than most aftermarket cores for superior cooling

3" billet CNC inlet and outlet ports for improved strength and air flow

Durable 4-ply silicone couplers


Shroud and bridge plates to channel air into the intercooler

Fits without trimming factory crash beam and bumper cover

Pressure tested to 50psi

High quality aluminum TIG-welded construction



Kit Includes

---
Front Mount Intercooler

4-Ply silicone couplers

Hose clamps


Shroud and bridge plates

Mounting brackets

Fasteners and mounting hardware

Horn relocation brackets



Specification

---
Garrett Intercooler Core
22"x14"x4.5" core dimension

Cast & sheet metal aluminum

Fits without trimming factory crash beam and bumper cover

Requires minimal trimming of plastic OEM shroud

Works with Alpha GT-R piping or any aftermarket 3″ intercooler piping following stock routing



Applications

---
2009 and newer Nissan R35 GT-R

900+ horsepower GT-Rs

Hot climates



Kit Instructions
---
Alpha Performance R35 GT-R Race Front Mount Intercooler Upgrade Install Instructions can be downloaded here.