Alpha Performance Intake Manifold With Cast Aluminum Plenums for Nissan GTR R35 VR38

DESCRIPTION
The Alpha Performance R35 GTR Cast Aluminum Intake Manifold Plenums have been painstakingly designed by AMS to be the most efficient and power producing cast intake manifold available. Attention to every detail was accounted for when creating this high performance induction component. If you're familiar with the Alpha product line, you already understand that our aspiration has always been to offer you much more!
Power Producing VR38 Intake Manifold
Like our Carbon Fiber Plenums and unlike most aftermarket GTR Intake Manifolds where gains are seen near the top of the power band and suffer near the bottom, the Alpha GTR Cast Aluminum Intake Manifold Plenums provide global performance. Compared to the leading cast aluminum GTR intake manifold on the market, our piece not only produced more HP and torque but it did so through the ENTIRE POWER BAND! From the moment your turbos spool up, the Alpha GTR intake manifold starts making more power and torque.  The best part is nothing is sacrificed in terms of response or power under the curve.
Larger, Perfectly Molded Cast Aluminum Plenums
Based off of our Championship winning Carbon Fiber Intake Plenums proper function of the plenum is extremely important to the performance of any intake manifold. In the case of the GT-R, there are two plenums – one for each bank. Not only should they be sized for correct volume, they provide even more benefits when shaped in such a way that distributes charged air more evenly amongst each of the precisely machined CNC aluminum velocity stacks leading into the runners. Both lightweight cast aluminum plenums are molded and tapered to channel charged air effectively – reducing turbulence and accelerating the delivery of charged air to the engine. By maintaining balance and sustaining maximum airflow velocity and pressure when needed, your GT-R benefits by outputting more horsepower!
Optimally designed CNC billet aluminum velocity stacks
The Difference Is In The Details
Each manifold is matched to its upper and lower running section to maintain the perfect flow of air from the throttle body to the cylinder heads. To achieve this, our engineers called for very tight tolerances where the upper and lower sections adjoin. That wasn't enough though. To perfectly align the upper and lower ports, they took it a step further and installed dowel locating pins to ensure there were no steps or protrusions that could cause unnecessary turbulence found on other aftermarket GTR intake manifolds.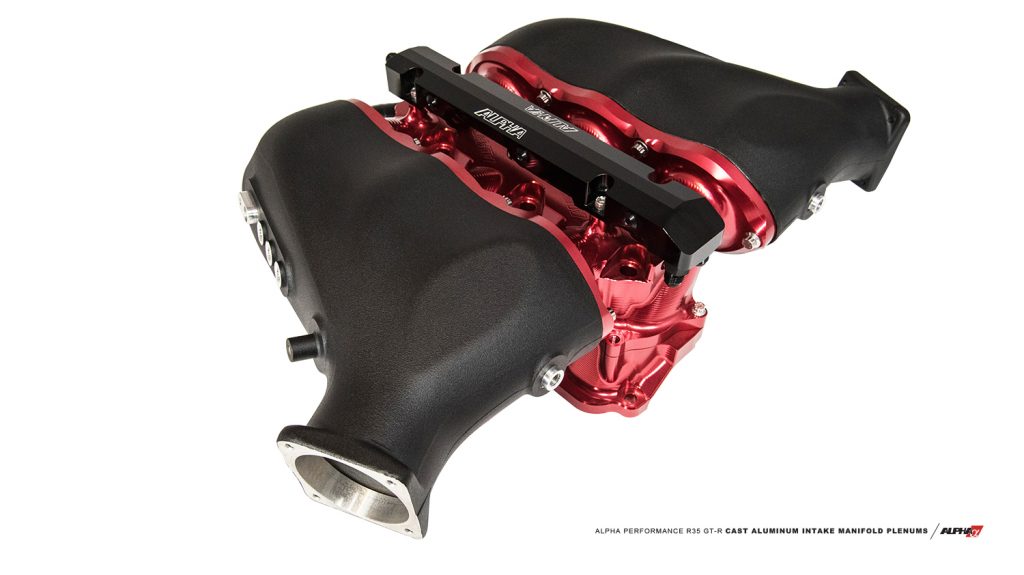 Rigorously Tested
We wanted to offer an intake manifold with the highest level of strength and reliability so we teamed up with an expert in the field.  We then cycle tested our finalized design from 0–50psi in a high heat environment in order to replicate over 20 years of operation by the average GT-R owner! In the end, a burst test was performed where the test manifold was subjected to over 150psi! No other GTR intake manifold on the market has undergone such grueling tests!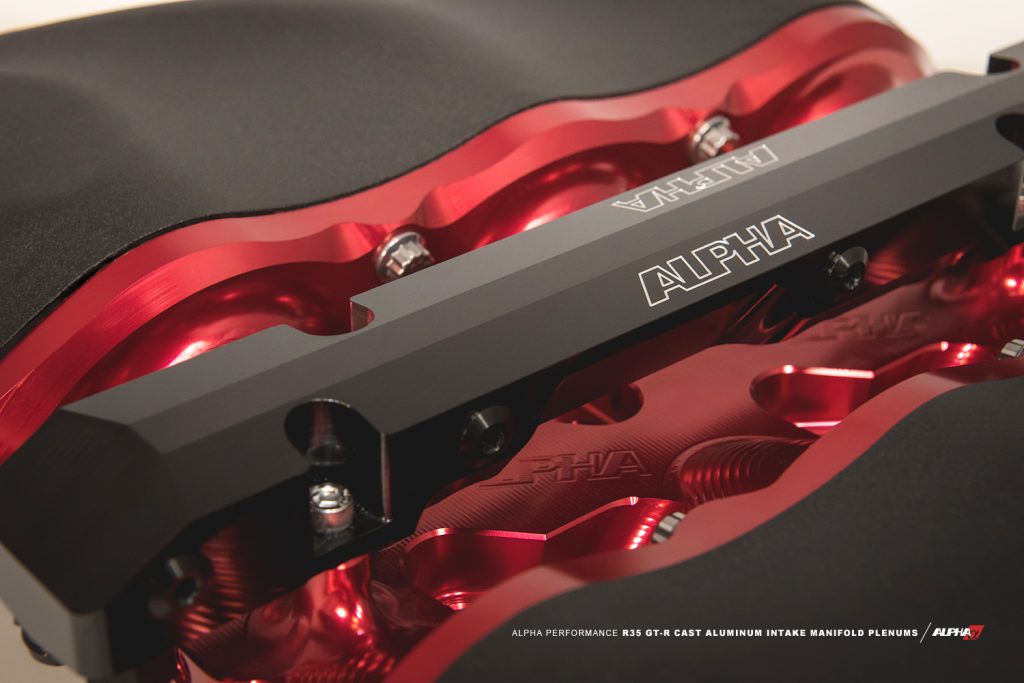 Third Fuel Rail Engineered To Support Incredible Power
For extremely high-powered GT-Rs, provisions are available on the manifold and an additional Alpha fuel rail can be installed which will supply enough fuel to feed a VR engine capable of producing over 2000+ horsepower. Positioning of fuel injectors is critical since optimizing the spray angle of the injector can improve fuel atomization and efficiency. Our engineers took all of these ideas to heart when designing our third rail setup. This option is available for customers wishing to change their standard two rail Alpha cast aluminum manifold to a three rail system down the road.
Additional Support With Optional Alpha Billet Big Bore Throttle Bodies
Outgrown the stock GT-R throttle bodies? If your car is making over 800HP, they are probably a restriction.  We manufacture the largest throttle bodies for the R35 GT-R – designed to work with this intake manifold.
Choose an Anodized Color Finish

Would you like your Alpha GTR intake manifold to complement the color of your GT-R? Choose from a stunning array of anodized finishes to give your engine bay that added custom touch!
Maximize horsepower and add the ultimate focal point to your engine bay, order your Alpha Performance GT-R Cast Aluminum Intake Manifold today!
Exclusive Benefits
---
Based on The most powerful VR38 intake manifold on the market

Show stopping design

Over 25% lighter than the leading cast intake manifold

Dowel pin aligned for smooth, continuous flow between upper and lower runners

Dual MAP sensor ports allow for monitoring bank to bank differences in boost pressure

Retains PCV and functions exactly like stock

Extra vacuum ports on plenums
Includes
---
Cast Aluminum Plenums

Billet Upper Intake Runner

Billet Lower Intake Runner

Third Rail Available
Options
---
AMS Throttle Body Adapters Required for Use with OEM Throttle Bodies

3rd Fuel Rail for additional 6 injectors

Custom Intake Runner Anodizing:  Standard billet, Black, Blue, Gold, Purple, Red

CNC billet aluminum upper and lower section gasket

Evap solenoid mounting bracket

Throttle body gaskets

All necessary vacuum fittings and hardware
Applications
---
2009+ Nissan R35 GT-R

Fits all USDM, JDM, Gulf Spec, and European Models (LHD & RHD)
Product Notes
---
Alpha upper intercooler pipe adapter for current Alpha intercooler piping or full Alpha Induction Kit is required.

While other fuel rail kits may work (stock rails are not compatible), AMS can only guarantee AMS/ALPHA Fuel rails to be compatible with this Intake Manifold.

Custom color anodizing can add as much as 4 weeks to your build time.