Alpha Performance Porsche 997.2TT Intercooler System
We developed the Alpha Performance Porsche 997.2 Turbo Intercooler System to provide you the best air induction cooling upgrade for your Porsche 997.2TT. Before bringing this intercooler system to market, our goal was set to provide an intercooler system that sacrificed nothing in terms of quality, fitment, aesthetic design and performance.

"I never thought intercoolers and inlets on my 911 would have made this big of an improvement over the stockers, and after seeing the results on the dyno I wanted to put together all the data I had to compare. If you have a 997 or 991 Porsche 911 Turbo you NEED AMS Performance Intercoolers on your car, period! In short, I modded my car shortly after I bought it with an upgraded clutch, Fabspeed Motorsport Exhaust, Injector Dynamics Injectors, and of course a COBB Tuning AP. Bone stock the car made around 460whp on our dyno, which was already impressive. With the new parts, on 93oct, we saw great gains, making a hair over 500whp. The next step was E85, but it was late last year and I didn't get a chance to get the car back on the dyno until recently. The car was, obviously, noticeably faster on the street as we started tuning. However, when the weather got hot and ambient temps were over 80*, you could tell the car was way down on power.
Fast forward to last week, when I got the car back on the dyno we found out how bad the stock intercoolers were (and immediately ordered the AMS IC Kit). Full disclosure here, our dyno is run uncorrected, and it was hotter and more humid on the baseline runs compared to runs with the intercoolers installed. Regardless, the gains are amazing. On a 4th gear pull on the dyno with stock intercoolers, intake temp at the manifold started at 81* F and climbed to 168* F by the end of the pull, and on the street doing a 3-4-5 gear pull intake temps started 118* (it was only 80* ambient that day) and rose to 170*!
In comparison, with the new AMS intercoolers, charge piping, and turbo inlets installed and back on the dyno, during a 4th gear pull the intake temps started at 74* and ended at 71*. On the street doing the same 3-4-5 pull intake temps started at 96* and ended at 118*. On the dyno sheets attached, you can see that we picked up 70whp and 70ftlbs, and an increase in spool. While the intercoolers contributed a large amount to the differences here, there were a few other factors worth noting. The stock inlets are pretty restrictive, and we swapped them to Torque Solution units at the same time. Also, the ambient temp in the dyno room was about 15* cooler on the second day. Thanks to Martin and the guys at AMS for making a killer kit, with perfect fitment and top notch finish, they even changed the Y pipe to full carbon instead of the aluminum piping in the older version at no additional cost!"
— Nathan Silveri
The Largest Intercoolers You Can Get For Your P-Car
The Alpha 997.2TT Intercooler System utilizes a pair of 5.5" thick, high volume cores giving you the most power producing upgrade on the market. Each core provides optimum fin density for unmatched cooling with lower pressure drop when compared to stock.

Computer Aided Design Yields Maximum Results

Our engineering team designed the Alpha 997 intercooler end tanks with extremely smooth features and geometry for the best flow resulting in maximum horsepower.  Designed using Solidworks 3D CAD software, these end tanks have improved flow over boxy sheet metal end tanks found on other intercoolers.

Cooler Intake Charge Boosts Power And Response
Channeling cool air to the intercoolers is vital for optimum performance of any intercooler.  Some manufacturers choose to remove the factory intercooler inlets in order to cut costs.  This greatly reduces the effectiveness of ANY intercooler whether it's larger or not.  Others require that you cut up and tape the factory shrouding to the intercooler core in an attempt to seal the shroud to the intercooler core.  While this is better than removing the shroud, it is still not the most effective way to boost performance.

The Alpha 997 Intercooler System retains full use of the stock intercooler inlets (located in front of each rear wheel) forcing cool air into our larger, carbon fiber shrouds.  Not only is this option more aesthetically pleasing, each rigid OEM-quality carbon fiber piece is made to seamlessly mate to the Alpha Intercoolers, feeding them cooler ambient air more efficiently than other alternatives. Not to mention eliminating the removal or destruction of your intercooler ducting.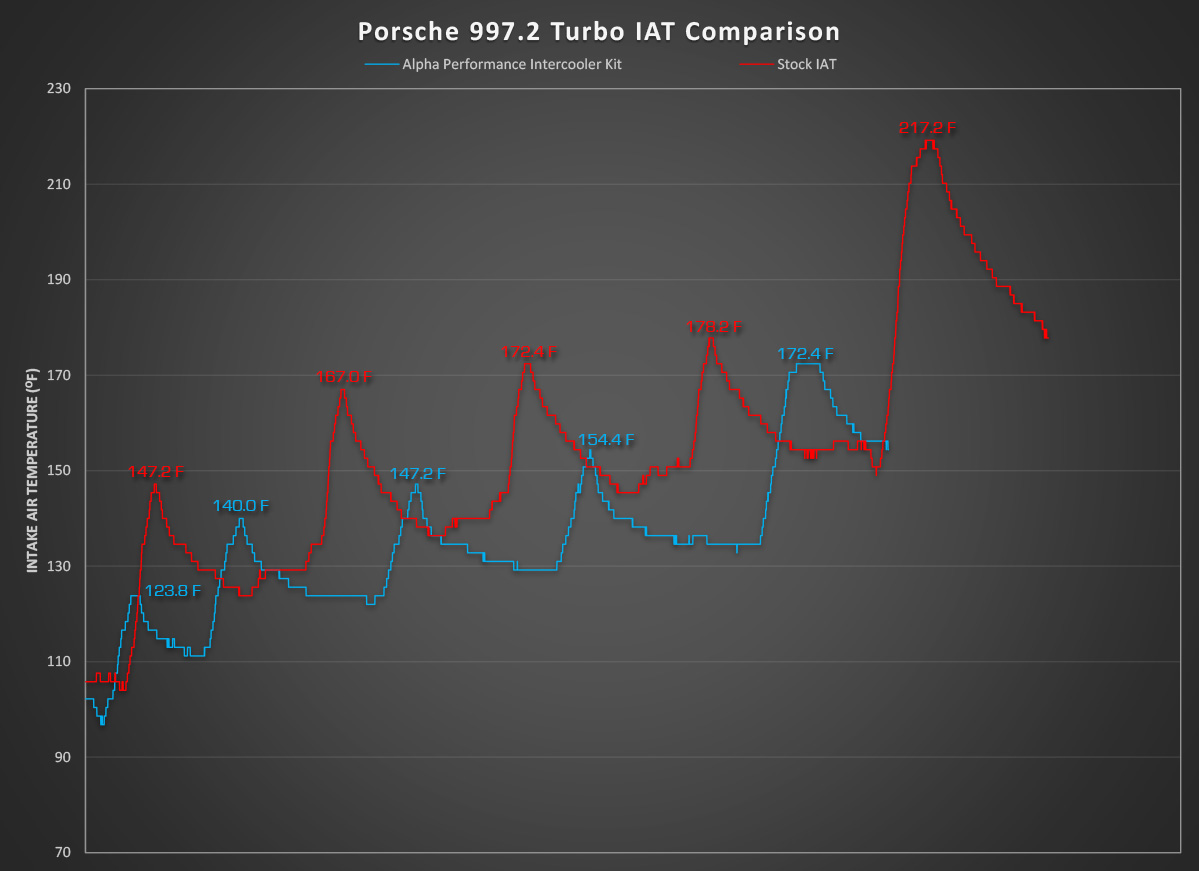 The graph above illustrates the Porsche 997.2 Turbo's intake air temps (IAT's) with stock and Alpha Intercoolers. The car made four consecutive 4th gear pulls and a 5th gear pull at the end. On the stock intercooler run, the car closed the throttle bodies and shut the run down on the 5th gear pull because the ECU detected temps were too high.
Note the cool down time between pulls was shorter with the Alpha Intercoolers vs the stock intercooler test, yet the Alpha Intercooler's maintained lower IAT's throughout. This test was done back to back the same day,same dyno and in the exact same conditions with two dyno fans blowing directly into the intercooler inlets. On the street, cooling efficiency will be increased due to an increase in airflow/velocity reaching the intercoolers.
Maximum Airflow For Maximum Horsepower And Torque
Another key component to the intercooler system is our computer designed intercooler piping. This features a carbon fiber Y-pipe offering 40% more flow. The larger 2.5" diameter is significantly wider than stock (1.79") and has a gloss finish to provide lasting durability. The Y pipe is a custom designed carbon fiber piece, conforming to the tight surroundings of the engine bay and the inner walls of the pipe promote the flow of charged air to the intake with minimal amounts of turbulence.
To further improve airflow, our engineering team went a step further by computer designing precisely molded, custom silicone couplers.  These provide perfect fitment and optimized geometry for improved airflow volume and velocity providing a 30+ HP gain and quicker boost response helping you stay ahead of your competition! Perhaps the best feature about this intercooler system is that it maintains cooling efficiency as more power producing upgrades are added to your Porsche 997.2TT! It improves the effectiveness of your other upgrades giving you maximum hp output potential!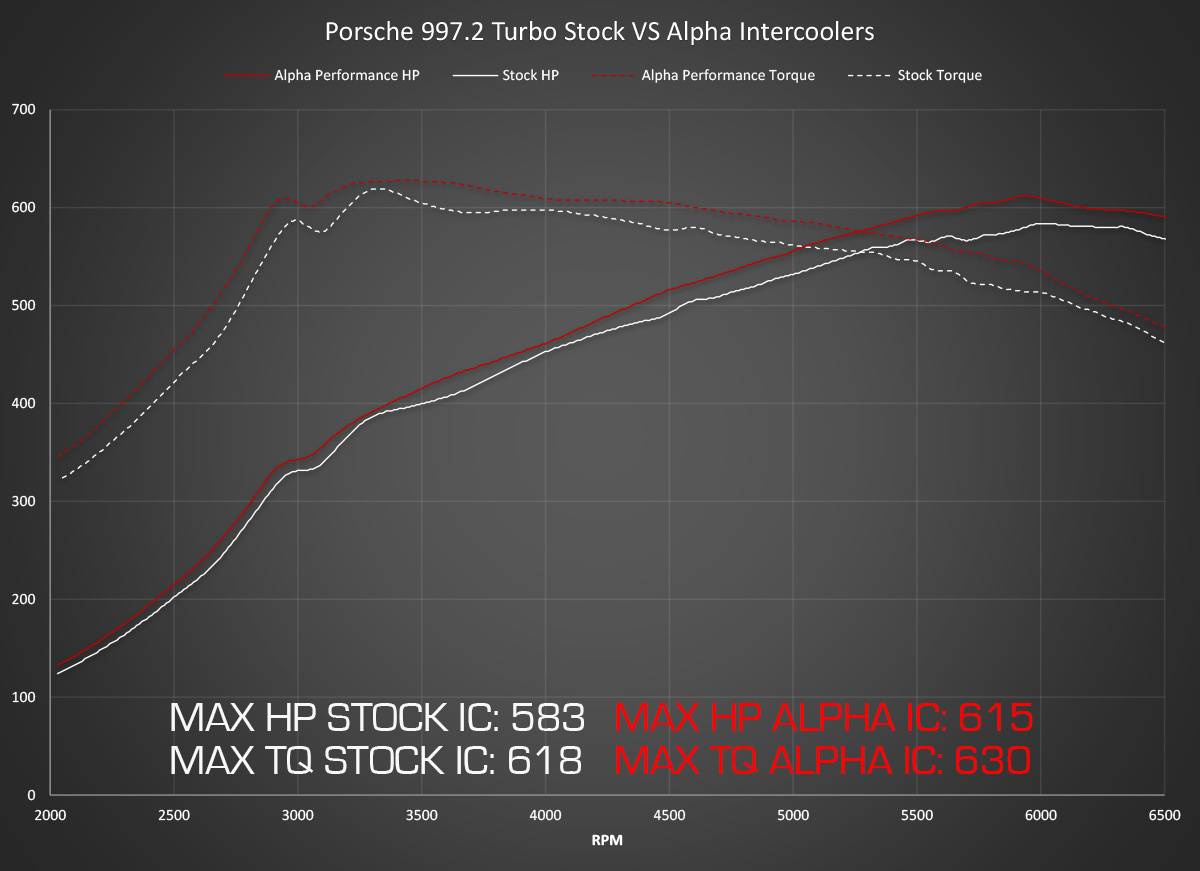 Note: our test 997.2 Turbo was was equipped with an aftermarket exhaust and Alpha Tune prior to this test. The dyno above reflects a pull with the stock intercoolers, then installing our Alpha Intercooler System and doing another pull. There were no changes to the tune or any other components.
Exclusive Benefits
---
Largest intercoolers on the market

Offers smooth cast end tank design to reduce turbulence

Offers optimum fin density for improved cooling

Appx. 800 CFM of airflow per intercooler core
631 cubic inches of heat exchanger surface area per intercooler core

CAD design achieves perfect fitment and provides the most potential for power

Carbon fiber intercooler shrouds form a tight seal to maximize cooling efficiency

Large Carbon Fiber Y-Pipe and 5-ply silicone couplers to handle more volume and increased boost pressure

A simple installation without having to perform unsightly modifications

High quality materials to last the lifetime of your 997.2TT

Provides a factory fit & finish unmatched in the industry
Includes
---
5.5" thick Alpha Intercoolers w/ cast end tanks

Carbon Fiber Intercooler Shrouds

High volume carbon fiber Y-Pipe

5-ply Silicone Couplers

High quality Stainless Steel Hose Clamps

All necessary fastening hardware
Product Notes
---
As these motorsports grade carbon fiber parts are hand laid, slight imperfections or weave pattern variances can be expected.