Since 2009, the standard practice for stock-style turbo upgrades on the R35 Nissan GTR has been to utilize the OEM "turbofolds" and machine the housings to accept larger aftermarket turbo CHRAs. The downside to this method is that the factory manifold is designed for compactness and packaging, as well as only optimized for OEM power and boost levels, meaning if you try to modify them, their limitations become apparent. Many of the current stock-style offerings on the market have lackluster boost control, or worse, excessive boost creep — some so bad that standard 93 octane pump gas cannot be used, requiring owners to run high octane race fuel at all times. With the introduction of the 2020 GT-R, our AMS Snailworks© Engineering Team knew there was a way to optimize our stock location turbo kit offerings to match the OEM two-piece manifold and turbine housing design with our own integrated improvements. By casting our own two-piece style manifolds and turbine housings, we are able to optimize all of the shortcomings of the OEM castings, including doing away with expensive core charges and machining lead times altogether.
The AMS Performance ALPHA line of turbo kits have been the benchmark in GTR performance for years with countless world records, awards, and championships. The ALPHA name is the brand by which everything else is measured. Now, we are incredibly proud to announce the next evolution in our R35 GTR turbo kits, the OMEGA Turbo Kit line. Taking its name from our most notorious street car build to-date, the ALPHA OMEGA GTR, our mission with the OMEGA line has been to deliver the best performing and most reliable street car turbo kits — without compromise.
The First and Only 2020-Style Two-Piece Manifold Design on the Market

No More Cracked OEM Wastegate Port Holes, Zero Core Charge, No Wait Time

Utilizes Billet Wheel TD06 Based Journal Bearing Turbo CHRAs w/ 49mm Inducers

OMEGA 9 is Capable of Low 9 Second Quarter Mile Times and 900+ WHP*

Optimized and More Efficient Exhaust Manifolds

New Wastegate Port Design for Improved Boost Control and Reduced Boost Creep

TiAL MVI 2.5D Wastegates Allow Adjustable Base Spring Pressure

Cast Compressor Cover Allows For Full 3″ Intake To Be Used

Show Stopping Design and Exotic Casting Materials

Works in Conjunction with your Existing ALPHA 7 ("Full Bolt On") Modifications

Full 3″ AMS LICP Kit Available Separately to Maximize Power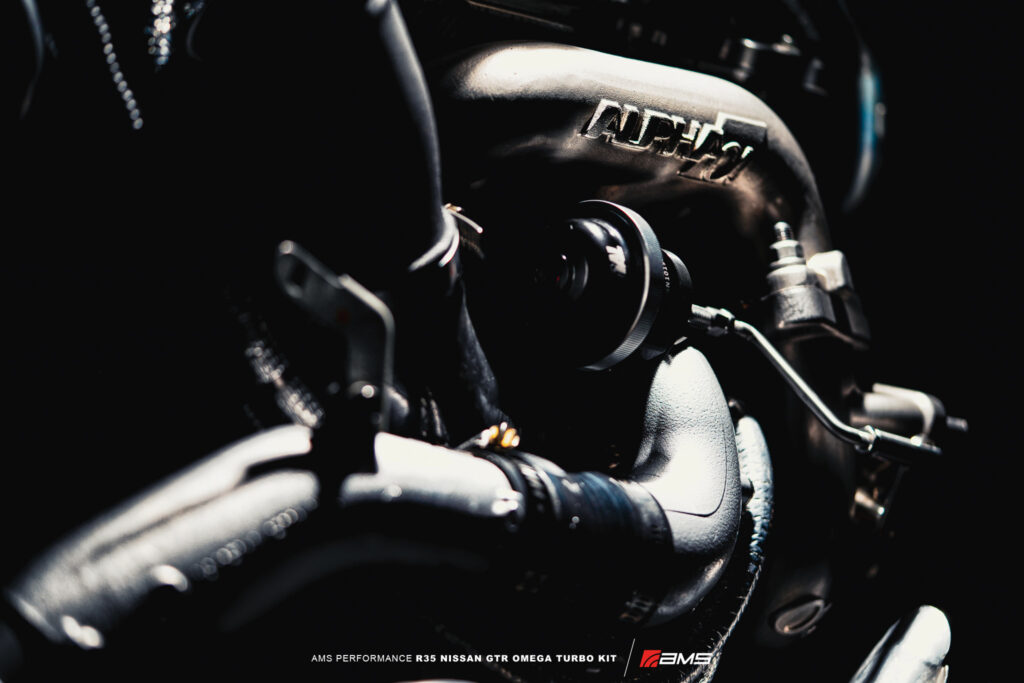 Engineered to Win
Our AMS SnailWorks© Engineering Team has spent hundreds of R&D hours refining the AMS Performance OMEGA 9 R35 GTR Turbo Kit to be the best performing, highest quality, and easiest to install kit on the market. This R35 turbo kit is designed with minimal bends and restrictions by our team to smoothly and efficiently feed more air through the exhaust and intake paths allowing your VR38 engine to breath easier. Our team also designed an improved wastegate solution and created our own actuator rod to allow us to mount the TiAL MVI 2.5D wastegates to the new turbos. Then, focusing on the small details, our team made sure to have the turbos properly clocked and high quality coolant and oil lines pre-assembled for a leak-free install.
The AMS SnailWorks© Engineering Team has designed the OMEGA Turbo Kits to be a direct bolt-in install without hacking up your prized possession. The OMEGA line is fully compatible with A/C, power steering, and all other factory options, and is easily reversible back to stock with a few inexpensive replacement parts. The OMEGA turbo system upgrades for the R35 Nissan GTR have been engineered from the ground up to create a line of turbo kits that will redefine GTR aftermarket performance and position them to be the most recognized and sought after kits on the market.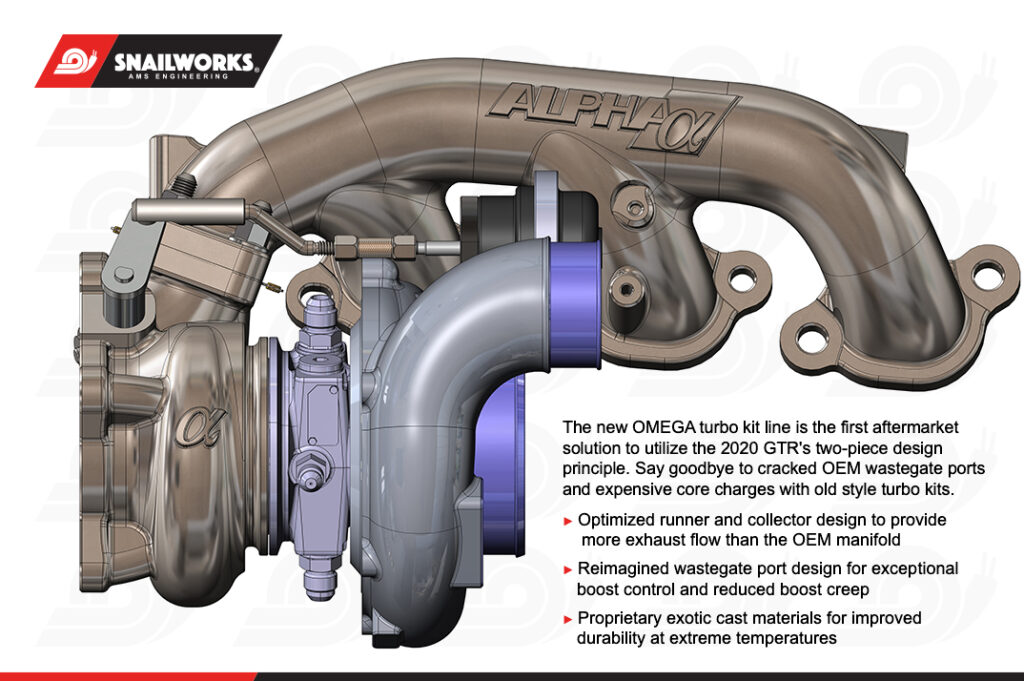 High Performance Castings for High Performance Applications
The OEM R35 GTR has historically used a one piece "turbofold", which integrates the turbine housing into the manifold. While this is great for packaging a turbo assembly within a constrained space, it makes modifying for larger turbochargers much more difficult. For the 2020 model year, Nissan introduced a two piece design allowing for much easier turbo swaps. The new OMEGA turbo kit line is the first aftermarket solution to utilize this same two-piece design principle. Our AMS SnailWorks© Engineering Team drafted a completely optimized runner, collector and turbine housing design to provide more exhaust flow than the OEM manifold.
One of the key features of our casting has been a reimagined wastegate port design for exceptional boost control and reduced boost creep. This design allows for reduced flow disturbance as we can engineer a 27% larger wastegate port, and a more direct flow path for exhaust gasses to travel. This design allows for a way to feed exhaust gasses as efficiently as possible to both the turbine wheels and wastegates simultaneously. The AMS OMEGA turbo line is also built to be tough, and uses proprietary exotic casting materials for improved corrosion resistance and durability at extreme temperatures.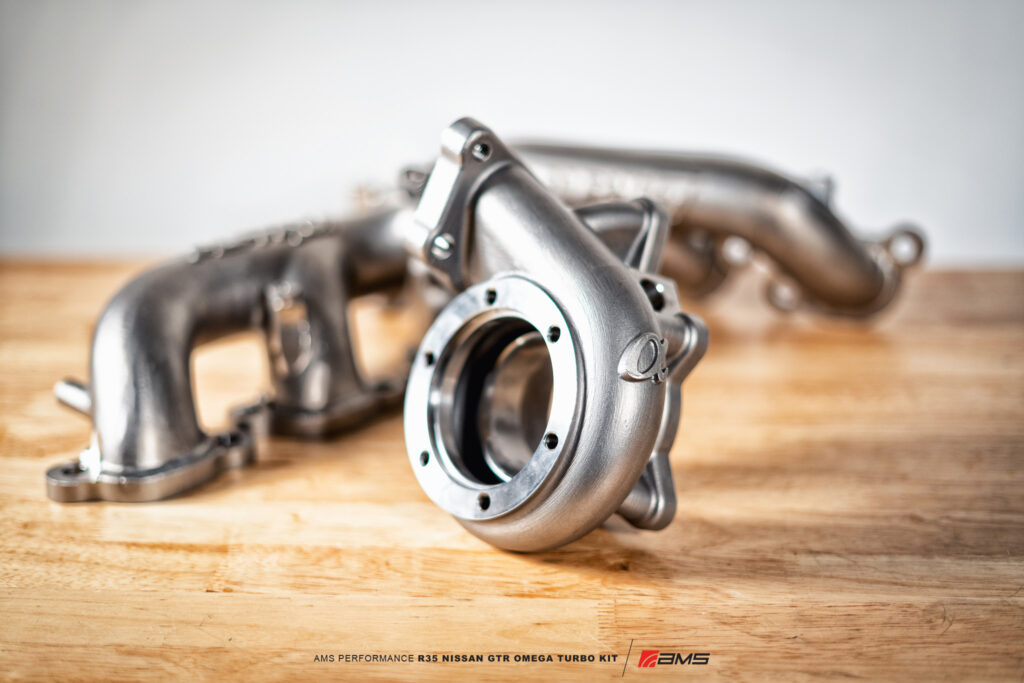 The OMEGA Series Turbos & TiAL Wastegates
There's a reason the TD06H-20g has been an iconic turbocharger chosen by enthusiasts for decades. Great spool characteristics, good power, and excellent reliability. Taking the base specs from the original TD06H CHRA, we modify our own cartridge for even more efficiency and power by installing a billet compressor wheel to the cold side of the turbocharger. This not only reduces weight of the CHRA for quicker transient response, but improves aero characteristics for improved spool and airflow. By implementing a time-tested turbo design for the OMEGA 9, we have successfully delivered a robust horsepower solution on a budget.
To further improve power output, these AMS spec TD06H-based CHRAs use our own proprietary surge ported 94mm inlet and 54mm discharge compressor covers. These AMS Performance custom cast aluminum covers allow for greater airflow compared to a 3 inch cover found on many smaller turbo systems or worse, the tiny OEM 2-bolt cover. These details are what sets the OMEGA line of turbos apart from the rest. Our team has even gone the extra mile and pre-installed the oil and water lines to the CHRA as well as clocked the compressor cover to save you installation time and effort.
The MVI 2.5D unit is TiAL's compact wastegate actuator standing only 2.2" in height without fittings and actuator rod. This compact design makes it easier for installations involving confined space like in the OMEGA turbo kit line for the R35 GTR platform. These ultra robust CNC machined 6061 aluminum wastegates allow for quick spring changes by way of their locking cap design. While we have pre-installed the most commonly used base pressure springs (18psi), all springs are included to set your own base pressure as your unique set-up requires. Precise boost control has never been easier!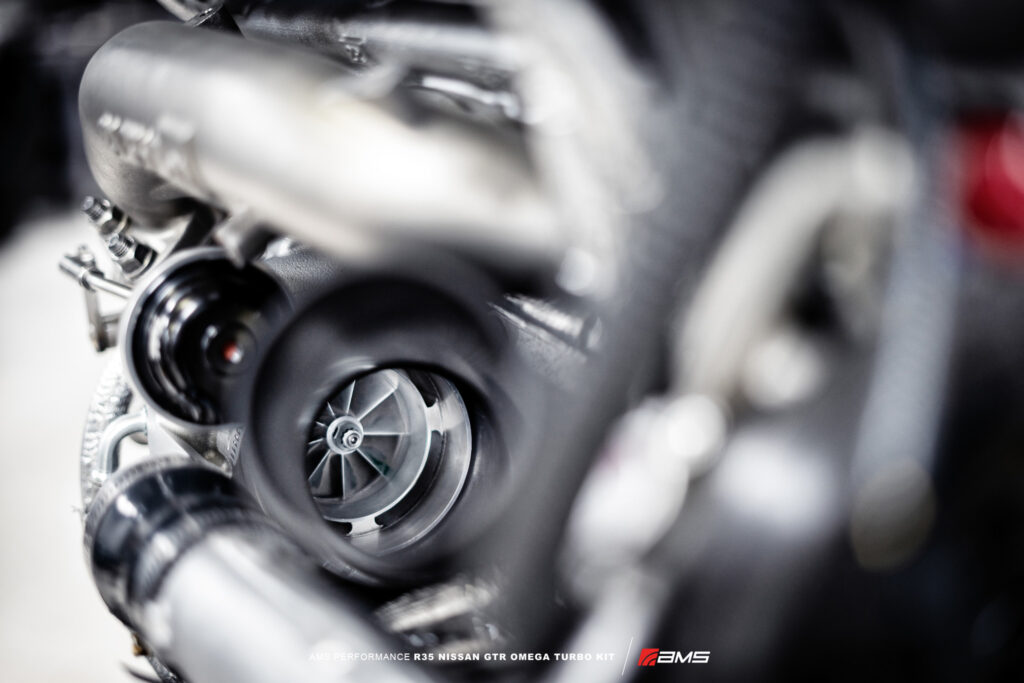 Kit Includes
TD06 Based Journal Bearing CHRAs
TiAL MVI 2.5D Wastegates
AMS Cast Compressor Covers w/ 94mm Inlets and 54mm Outlets
AMS Cast Exhaust Manifolds (2020-Style 2 Piece Design) (Optional)
AMS Cast Turbine Housings w/ Optimized Wastegate Ports
AMS 94mm to 3″ Inlet Tubes to Mate to AMS 3″ Carbon Fiber Intakes (Intakes Available Separately)
AMS Couplers to Connect to OEM Lower Intercooler Pipes (AMS 3″ LICP Kit Available Separately)
AMS Ancillary Components, Including all Hardware, Lines, Couplers, and Fittings
Product Notes
Fits All USDM, JDM, Gulf, and European Models (LHD and RHD)
2020+ Model Year Vehicles Will Reuse their Existing OEM Exhaust Manifolds. 2009-2019 Model Year Vehicles Must Use Full AMS Turbine Housing and Manifold System.
Not Compatible with OEM Stock Intakes. Fitment with Other Brand Aftermarket 3″ Intakes Not Guaranteed.  AMS Carbon Intakes Required and Available Separately HERE.
Compatible with OEM LICP, However Upgraded AMS 3″ Lower Intercooler Piping Available Separately HERE 
* Horsepower and torque numbers, quarter mile times, 0-60 mph, 60-130 mph and other recorded times are approximate and can vary significantly depending on numerous factors such as your ambient temperature, elevation, tire selection, road surface material, fuel octane and quality, and vehicle weight, among many others. The advertised numbers herein are based on optimal conditions and utilizing proper supporting modifications, but are generally attainable results by an average customer. Your results may vary.