The X kit comes STANDARD with 3.5″ Downpipes, 4″ Aluminum Intakes, 4″ Turbo inlets, and Alpha X Spec Turbos with Billet Compressor Wheels which produce in excess of 1900 WHP! The competition can't compete on the street or the track. All of the things that are standard on our X kit costs you thousands extra with the competition. And, unlike the competition, our kits require NO MODIFICATIONS of your cars unibody. The X Turbo Kit spools faster and makes more power and all with an OEM level of fitment that saves you time and money on installation costs. This is quite simply the ultimate R35 GTR Turbo Kit on the market.
Introducing the New Alpha X R35 GTR Turbo Kit!
---
The Alpha X Turbo Kit raced onto the scene at the
GTR World Cup.
Now the World's best R35 GTR street turbo kit is available to the public. The Alpha X kit comes STANDARD with 3.5″ Downpipes, 4″ Aluminum Intake tubing, and 4″ Turbo inlets which allow the Alpha X Turbo Kit V2 to produce over 2000 WHP! The competition can't compete with Alpha on the street or on the track. All of the things that are standard on our X kit costs you thousands extra with the competition. Are you ready for an over 2000 WHP street car?
Introducing the ALPHA X Turbo Kit upgrade for the R35 Nissan GTR. Knowing what we now know about the goals and aspirations of our GTR customers we set our engineers loose on a line of turbo kits that would redefine GTR aftermarket performance.
New updated Alpha X v2 kit includes updated turbos and downpipes, adding 100 WHP more!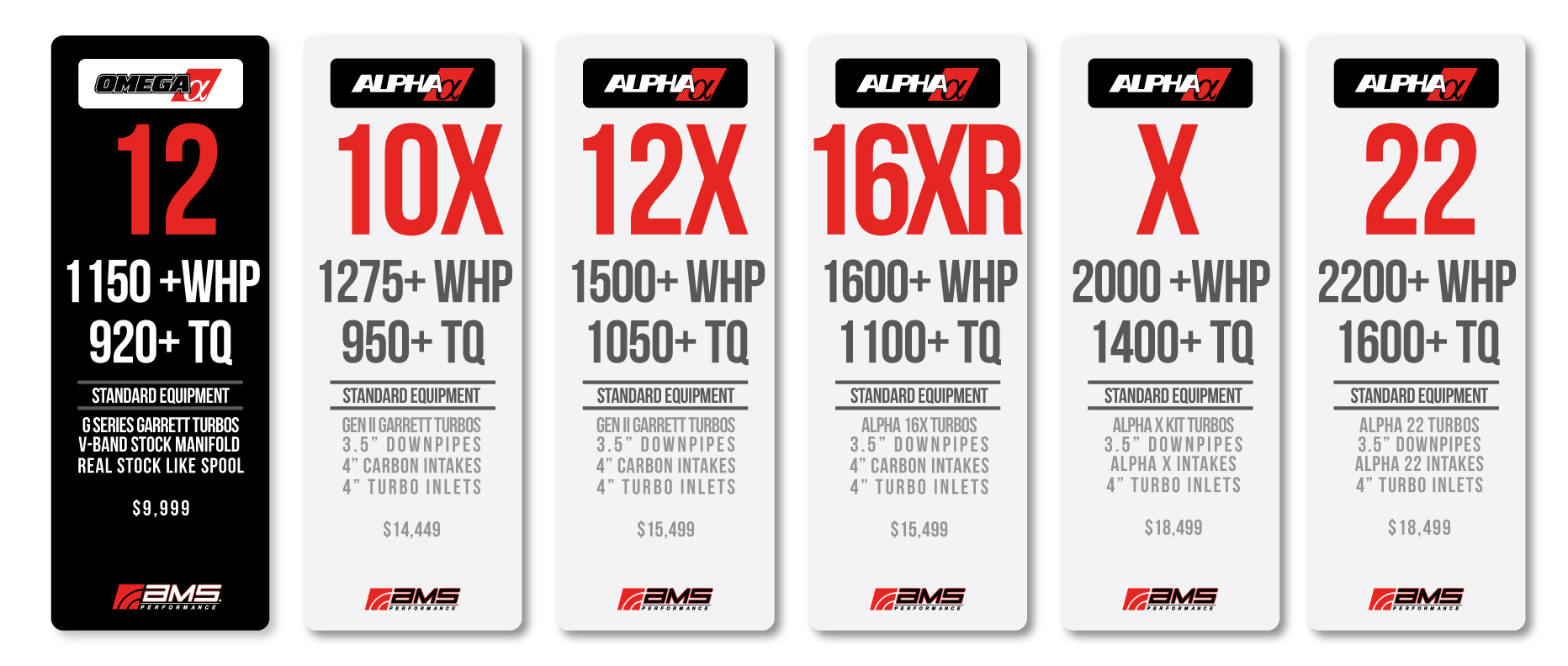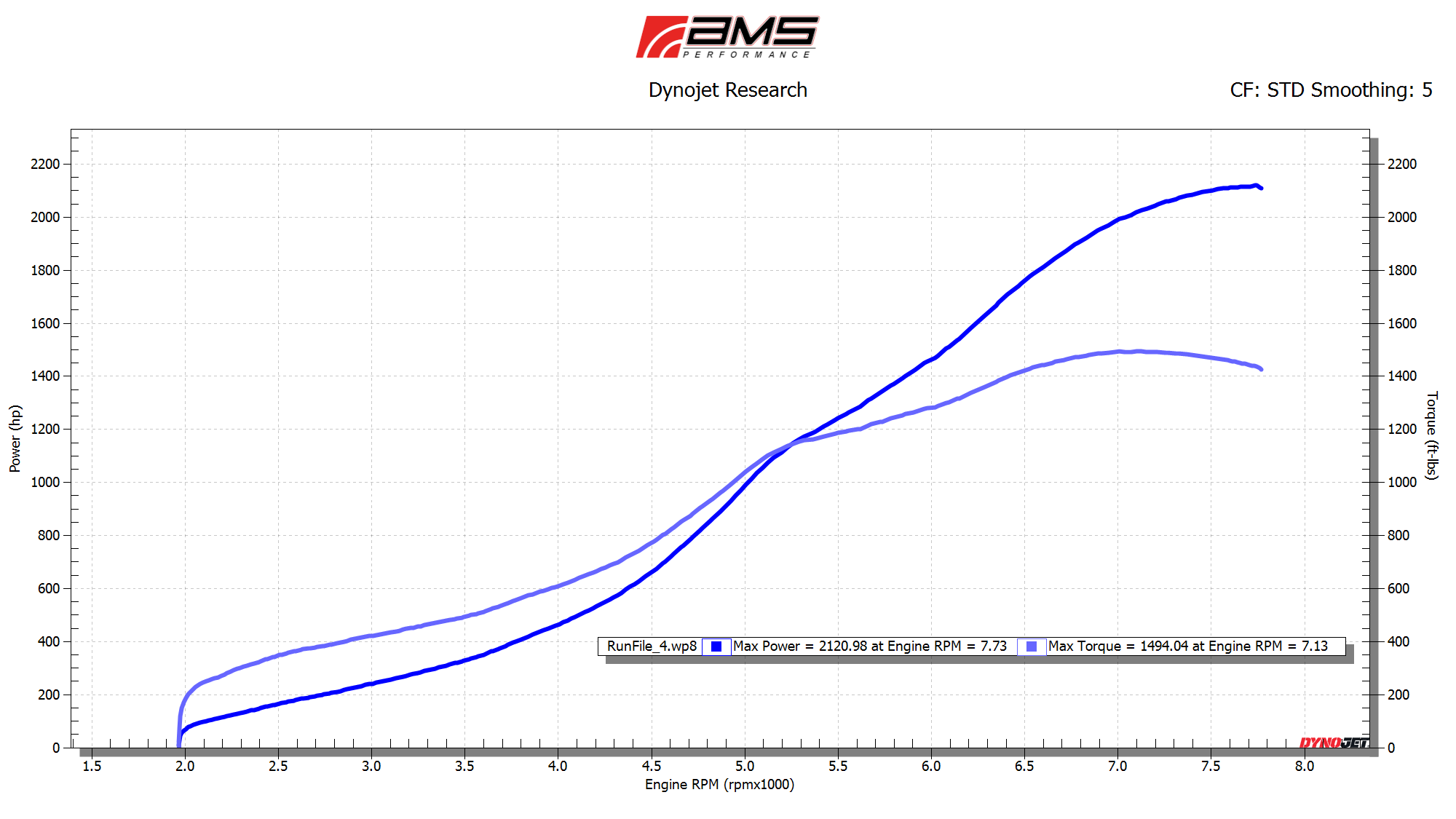 ALPHA Performance R35 GTR "X Series" Turbo Systems
---
Every part of the new Alpha X kit is now improved. From the turbos, to the exhaust manifolds, to the intakes, to the downpipes, the kit was designed to spool faster, pull more air in, and get more air out making much more horsepower than the competition.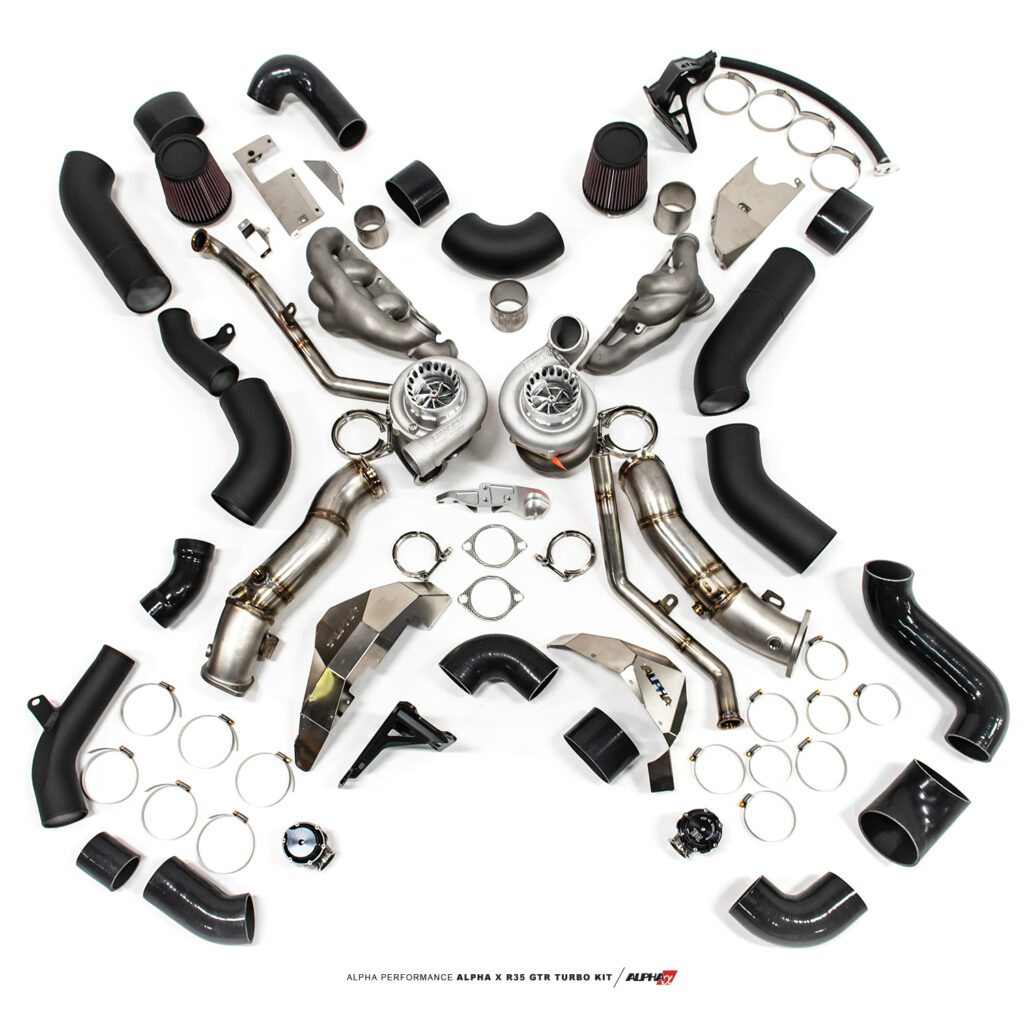 A Totally Redesigned Tubular Exhaust Manifold
---
The new X kit feature 2.0 inch external diameter runners. They are not just larger but designed in a way to feed the exhaust gasses as efficiently as possible to the new "X" Spec turbos. To improve the exhaust flow even further each of the manifold's interior is Extrude Honed to a smooth mirror like finish.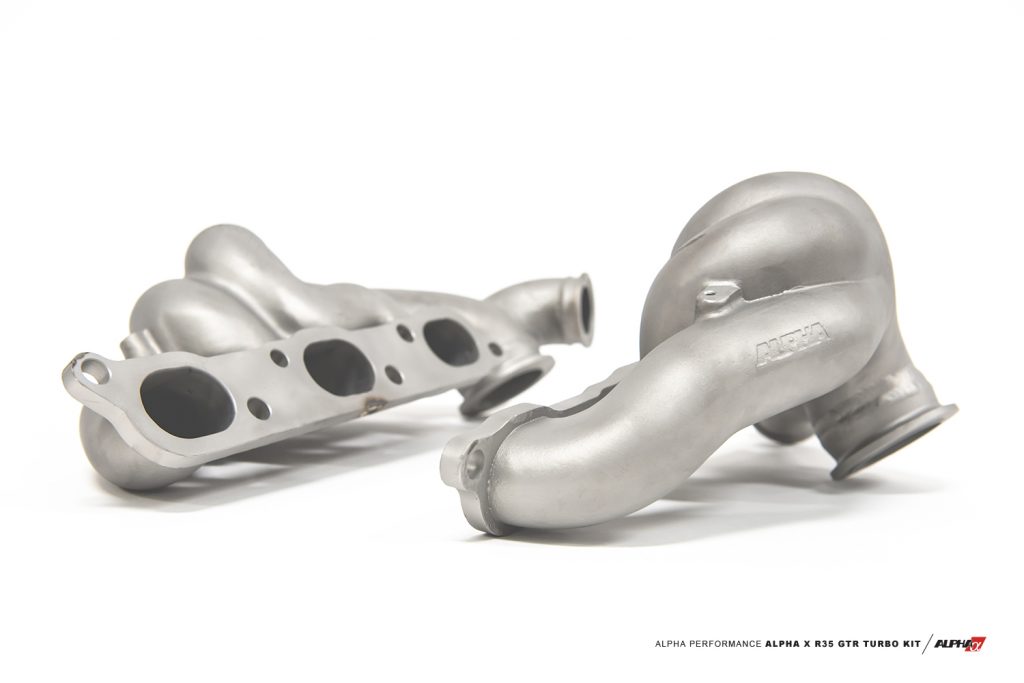 ALPHA X Spec Turbos
---
To further improve power output and reliability we spec'd a turbo with a 68mm billet compressor wheel,  a turbine housing that features V-Band inlet and outlet, and a 4″ surge ported compressor inlet.
WHP Gains Over Previous Turbochargers
---
The new X kit is 2000+ whp capable! All this is accomplished without sacrificing anything in terms of spool up time or power delivery. The future is now! The new Alpha X Spec turbochargers do not just make more power but do so with no loss in spool. We have successfully delivered you more horsepower throughout the entire powerband! These turbos also are able to sustain higher boost levels.
Massive 4″ Aluminum Intakes
---
That large 4 inch turbo inlet needed some more air to feed it. Anyone that has worked on a GT-R knows how tight it is trying to get 4 inch piping to a 4 inch compressor cover on a GT-R. Thankfully here at AMS we have the best resources available. By thoroughly laser scanning the confinements of the engine bay and designing the intakes in Solidworks© CAD (computer aided design) software, our Engineers were able to develop aluminum intake pipes that utilize all of the space available. It has an actual 4″ cross sectional area throughout the entire pipe to deliver all the necessary air to the ALPHA X turbos.
3.5″ Stainless Downpipes
---
As another feature of our "X" Turbo Kits we have added 3.5 inch (90mm) Stainless Steel downpipe set that will perfectly match your exhaust system.
NO MODIFICATION of your Frame Rails, Works With A/C, and Power Steering
---
We developed the new ALPHA X Turbo System to directly bolt in without hacking up your prized possession! Typically when our competitors reach 1200+ HP levels they are forced to take drastic measures.  Because our competitor's kits are so poorly engineered they have to start modifying your GTR's frame rails, losing air conditioning etc. If your performance shop has to bash the frame rails on any kit below 2000+ HP levels in the stock location then its time to bring your car to AMS Performance. Optional AC compressor and line assemblies are available and are necessary to be compatible with the Alpha X kit.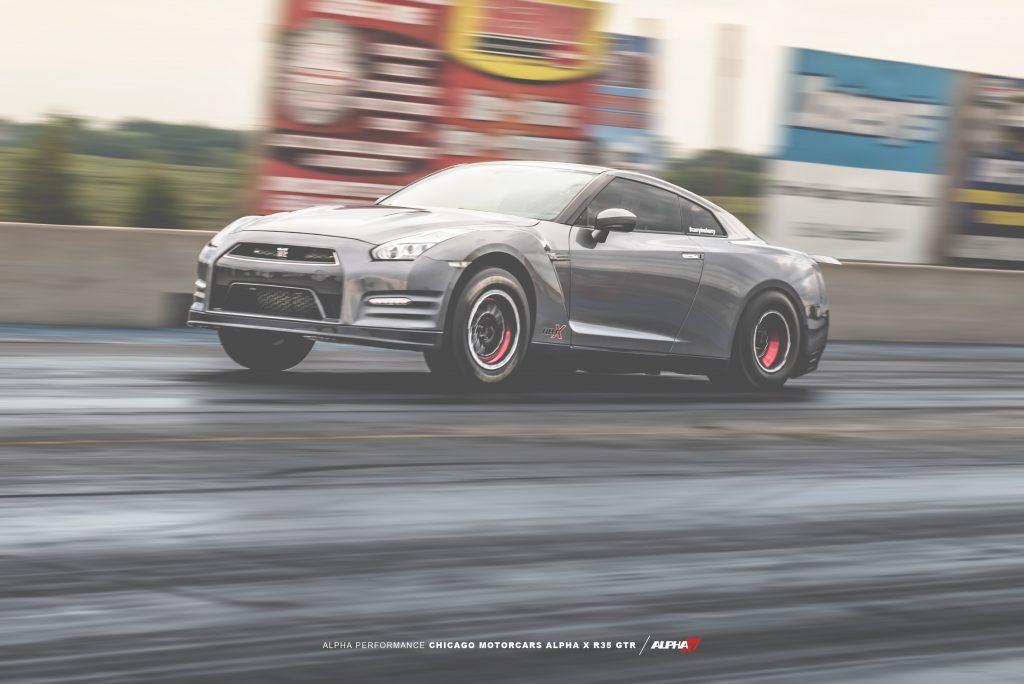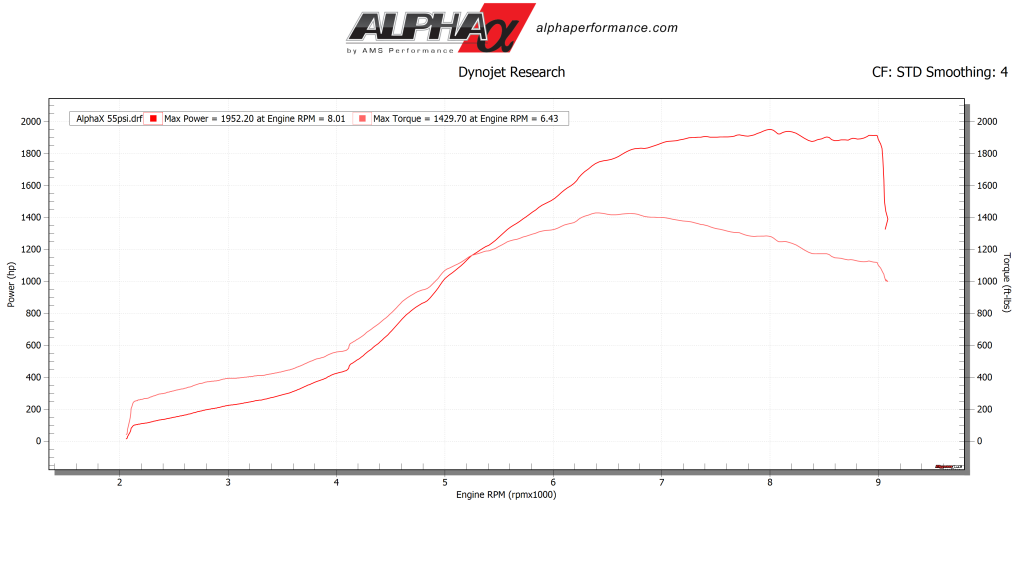 Exclusive Benefits
---
Alpha X Spec Turbochargers
Custom External Wastegate Dump Tubes
Tial MV-S Wastegates
Alpha Spec Engine Mounts
Alpha X Spec CNC Billet Aluminum Differential Bracket

Totally Redesigned More Efficient Exhaust Manifolds

Custom 2.5" to 3" lower IC piping

Laser Cut Heat Shielding

STANDARD 4″ Turbo Inlets

STANDARD Massive 4″ Aluminum Intake Ducts

STANDARD 3.5″ Stainless Steel Downpipes
Alpha X Spec Oil Feed and Return Lines
Alpha X Spec 4 Port Electronic Boost Control Solenoid Kit
All Necessary Hardware for Installation

Show Stopping Design

No Modification of the Frame Rails is Needed
Applications
---
2009-2011 (CBA) Nissan R35 GT-R
2012+ (DBA) Nissan R35 GT-R
Fits all USDM, JDM, Gulf, and European Models (LHD & RHD)